I've decided to do the weekly wrap-up for Gohan and Dora as two separate posts since their arrangements are completely different due to the ten-year age gap between them.
Her week looked like this:
Outside classes – It didn't take long…. Dora refused to go to Kindermusik this week, announcing that she wanted to stay home. So I am just going to follow her lead and not sign her up for any more outside classes. In addition, I happened to stumble on this quote, while looking at the Ambleside website. It is from Charlotte Mason and it got me reflecting all week on how much toddlers should socialize with each other:
  From 2-5 avoid the over stimulation of too much time with age mates. She says that '…the mixed society of elders, jrs., and equals, which we get in a family…" gives the right mix of rest and individual development. Be careful not to supplement nature so much that we supplant her and 'deprive her of the space and time to do her own work…" page 191
Fieldtrips – We went on three field trips this week. Firstly, we went to see the Wiggles in concert. Unfortunately, it was a circus theme and as soon as the ringmaster with clown makeup came out…well, that was that. Dora started screaming bloody murder, "Leave! Leave" I got her to stay long enough to see all of the Wiggles actually come on stage, but that was it.


The next day, we went to the local salmon hatchery. Dora was really into watching the fish. I was very happy that they didn't scare her as they are really large and come right up to the windows (and look a bit scary to me, but I kept that to myself). We completed the Autumn #7 Outdoor Hour Challenge while we were there. I was fascinated by the fry, which were zipping around so fast that we were never able to really see them. We also watched some of the recommended You Tube videos and looked at and contemplated coloring one of the salmon coloring pages.


Finally, we went to the Japanese Gardens at the Seattle Arboretum. It's a beautiful place to walk around, especially during the autumn when all of the leaves are so pretty. We were able to buy some food to feed the koi, which she loves to do.

Tot School – Recently, some other homeschooling blogs have greatly inspired by to change my approach to "educating" Dora. I have been looking into the Charlotte Mason method for Dora, which is part of why I have really tried to encourage her love of the outdoors. I also have long been into the Waldorf approach, but none of my other kids have had the slightest interest in anything Waldorfian (yeah, I made that word up). Dora seems more likely to be interested in a Waldorf approach, but I have become much more interested in Montessori methods. When I first started looking into Montessori, back when my eldest was this age (17 years ago), the internet wasn't what it is today and I really didn't find much information, except a few old Montessori books at the library. There was also a catalog for homeschoolers (Michael Olaf's or something like that), but Montessori toys were so expensive that I just gave up on it). Now, they are much more reasonably priced. More importantly, however, there are so many brilliant bloggers out there with wonderful ways of applying Montessori methods without spending a fortune!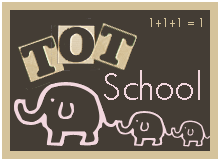 So I tried applying Montessori methods to our week. I also am trying to use the Tot School approach of having dedicated trays for Dora. My reasoning is that I think we she looks at her toys all day, every day, she really doesn't "see" them and they aren't so special. So I am going to put many of her toys away and bring three or four things each week. I am also going to set up some other Montessori activities to mix in. Everything will be purposefully laid out to encourage her to learn a particular skill, but obviously she can play with them however she wants.
I also am hoping to start having a theme of the week, which I would love to tie into the Outdoor Hour Challenge that we are doing each week, but that may be pushing things on my part, organizationally speaking.

We started this week off, with me trying to stick to a pumpkin theme. We made pumpkin pie playdough, which Dora really loved. She made pretend pies and loaves of bread, plus used her small metal knives and forks to cut and serve the dough (plus, don't tell anyone, but some of the teens even enjoyed playing with this dough).
We also tried some of the pumpkin printables,  but the only one she liked was this set of pumpkin life cycle cards from Montessori for Everyone (I think I mentioned before that she really likes cards). I got some autumn-themed books from the library. The only one that seemed to interest her was The Life Cycle of an Apple
. She really prefers books with real pictures, as opposed to drawings. Plus, she was very excited about the bee in the book. She has a thing for bees and we had just been talking about the fact that bees eat the nectar, but carry pollen on them also. So the picture of the bee was nice since it had pollen on it.


In an effort to be Montessori-like, I did get out her nice ceramic dishes, which  I purchased from Ikea (here and here). I set the dishes out on an oil cloth mat with a big bucket of water, a toothbrush, and some towels. That kept her busy for about 30 minutes, which is an incredible amount of time for her.
We did quite a bit of cooking together. After making the playdough, she decided that she likes cooking. She likes cleaning up even more! Too bad that won't last!