Well, I did it! I finished my 3rd and final book in the Jane Austen Book Challenge! My 3rd choice was Persuasion, which  had previously seen as a play. I must admit, going into it, that the play had set me up with some pretty high expectations. The first couple of chapters were a bit slow going, as they established the setting.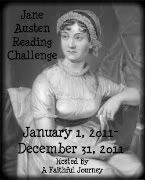 Once the book got going, however, it was as good, if not better than the play! I am going to go so far as to say that Persuasion is now my favorite Jane Austen novel. It is soooooooooo romantic. I am left wondering why it seems like Austen is so much more famous for Pride and Prejudice, Emma, and Sense and Sensibilities than Persuasion. My theory is that Persuasion is a bit rough in spots. The editor of the annotated version that I read, David M. Shapard, frequently implies that had Austen lived longer, she would most likely have edited several things. As is, Persuasion was not published until several months after Austen's death.
Once again, I am left highly recommending annotated editions of classics. This particular annotated version might have been a bit too annotated at points, giving definitions for words that seemed that any reasonably educated person should know. After a while, however, I really began to appreciate the in depth historical context that the notations provided. I learned so much about the time period while reading this edition, which is why it took me a bit longer to read, despite me never wanting to put it down.
Not only was Persuasion a wonderful read, but completing the challenge has left me feeling like I at least met one goal this year. Dora is just very high maintenance and I have not completed many things since she was born. So it was nice to have the time to accomplish a one thing just for me.
What about you? Have you accomplished anything major this year?
Disclosure: Several item links in this post are affiliate links. I will make a small amount if you click on them and make a purchase. All opinions expressed, however, are 100% my own.