In my life this week… I saw one of the most disgusting things that I have ever seen and I will spare you a photo of. We've had a cold running through the family and Tertia, who never gets sick, has caught it badly. She had already been to Urgent Care and started antibiotics when she asked me to look at her throat, which had become much more swollen. I got a flashlight and had to look pretty far back, but her tonsils had pockets of pus all over them and there was even one black spot on one of them! Being the wonderful first aid student that I am, I did the exact opposite of what one is supposed to do when someone is injured or sick, I jumped backwards, yelling, "Oh my God! That looks horrid!" I had my tonsils removed when I was young and none of my kids have had any tonsil problems before this, so I had no idea how gross tonsils could look. She went back to urgent care the next day and learned that she has tonsil stones, which I had never even heard of. The doctor actually tried to drain some of the pus by poking them, but Tertia's gag reflex was too strong to allow this. Anyway, I hope none of you were eating or planning to eat after reading my post!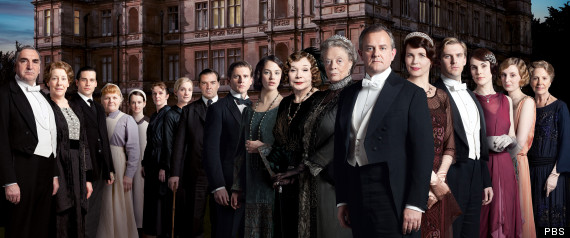 On a positive note, I started watching Downton Abbey right after Christmas break, and I have now totally been sucked into the show. I never watch TV for myself, so this is highly unusual. I have managed to watch all of Season 1 and 2 and now need to see if I have some sort of access to Season 3. Mr. Mo and I have also been sucked into Sherlock Holmes, which we watched over Christmas break. We've contemplated a move to England so that we can see these shows 6 months earlier, but that does seem a bit extreme… then again we are talking about Downton Abbey and Sherlock Holmes…
In our homeschool this week… The new edition of Saxon Algebra arrived for Gohan. By lesson 4, we decided that we both hated the textbook with a passion and I ended up ordering the older 3rd edition (Saxon Algebra 1, 3rd. edition), which Primo, Secunda, and Tertia all used successfully. I am not sure what I will do when we finish this book. Saxon's older edition series uses Algebra 1, Algebra 2, and Advanced Mathematics to cover all subjects from algebra through pre-calculus. The Advanced Mathematics book throws things off, since it is supposed to be be done in 1 – 2 years, depending on your student's abilities. At the same time, Gohan is off the traditional school schedule now anyway, so I suppose this does not matter much. I just remember having a lot of problems with being able to teach the material starting at the end of Algebra 2, since I haven't used any advanced math since college. The good news is that Saxon now has instructional DVD's for the higher level math books.
Places we're going and people we're seeing… My mother-in-law will arriving tomorrow for a week-long visit. We may take her to the new Chihuly Garden ad Glass exhibit in downtown Seattle, depending on the weather and people's sickness status.
My favorite thing this week was… Secunda getting a job. She has been very stressed about getting a job since moving back to Seattle. Plus, since she will not be starting back to university until September, she has been very bored. This job involves her assisting deaf and deaf-blind adults to live in a more independent manner (various living arrangements, some live in groups homes, others live independently, etc.). It ends up that deaf-blind people can "hear" sign language by feeling the tendons in your hands move, which I find to be incredibly fascinating. I think that it is incredible that our society has advanced to the point that we recognize that someone who is deaf and blind can be as smart and as productive a member of society as anyone else (as opposed to the way such such people were treated in the past and are still treated in many other countries) and that we have come up with ways for deaf-blind people to communicate, such that they can have jobs, take public transportation, and live relatively normal lives. I am also proud that my daughter is playing an active role in this process.
Things I'm working on… I am making a set of gnomes to represent the months of the year, per Dora's request. I have burned a symbol on to each gnome and am in the process of painting them all. I tried to burn the name of the month on to the gnome also, but my wood burning tool just does not allow me enough control to do that. I would like to have different hats for these gnomes than the felt ones I made for our days-of-the-week gnomes. I've contemplated seasonal hats, but haven't gotten past using acorn caps for the fall gnomes. Does anybody have any ideas for winter, spring, or summer gnome hats?
I'm also working quickly as possible on my first knitting project in about a decade. Even then, I only took one knitting class, so I basically have had to reteach myself from step 1. Dora really wanted me to make her a scarf, in fact she keeps trying to convince me that the scarf is already big enough for her to wear. It is blue and pink, because she could not decide between the two colors. I'm sure if you can tell from the photo, but I have a strange tendency to add stitches. I have no idea how I manage to do this and I rarely drop stitches. I'll notice it after a while and then will have to take up stitches. So the scarf's width fluctuates a bit. Also, I have never changed colors in a project and ended up having to back stitch a row, because I didn't know to leave enough yarn to attach the new color. I messed that up a bit, but Dora still loves the scarf, which is all that really matters. I'll try getting a bit more perfectionistic and complicated when I am not hurriedly trying to finish a project before the season changes.
A photo, video, link, or quote to share… This is the short poem that I read with Dora this week. We continue to read poems and sing songs about snow, in hopes of encouraging some snow to appear, but still no luck. This poem comes from an anthology from Wynstones Press, entitled, Winter: A Collection of Poems, Songs and Stories for Young Children.
Let's put on our mittens
And button up our coat.
Wrap a scarf snugly
Around our throat,
Pull on our boots,
Fasten the straps,
And tie on tightly
Our warm winter caps.

Then open the door...
...And out we go
Into the soft and feathery snow.
- anonymous

Please note my left sidebar for all the awesome link-ups that I am participating in.
Disclosure: Some item links in this post are affiliate links. I will make a small amount of money if you click on them and make a purchase. All opinions expressed, however, are 100% my own.
Maureen